I was originally planning to post this as filler material next week while I'm away, but the story is breaking too big and getting too embarrassing to leave it in the can.
My most recent story of stupidity has little to do with religion, but fits in with similar irrational thinking quite well.
A group of illiterate parents (at least they can't spell explanations, behavioural, or intensity) in Barrie, Ontario has decided that scary, invisible Wi-Fi waves are making their kids sick after wireless internet routers were installed in their schools. Some of the parents are apparently ready to transfer their kids to alternate schools or (excuse the term) god-forbid home-school them.
One might expect that if parents can't teach their kids about the world, then we ought to have scientifically literate teachers. Well, if you're in the Niagara district of Ontario, you'd be wrong, as their local board is sending a resolution to the Elementary Teacher's Federation of Ontario to ban all wireless technologies in school (good luck with that).
And this scientific ignorance apparently isn't limited to parents and a few teachers in suburban Ontario, Lakehead University is also refusing to install Wi-Fi in its new campuses. Instead it will provide wired internet connections everywhere via fibre optics (of course students will now wonder why they have to carry an ethernet cable in 2010 to a university of 7000 students).
But I should be fair and analyze their claims rationally.
The kids claim to have upset tummies, headaches and are otherwise not feeling good.
This reminds me of when I was teaching a grade 1-2 science summer camp in Yellowknife and after we did an activity with acetone the fumes started to get 1 or 2 of the kids light-headed. Of course fairly soon half the class was feeling ill, and the ones who we had sitting in the hall to feel better were chatty and giggly at any point when they thought we weren't looking.
I'm not saying that these Wi-Fi kids are faking it, or that their parents are making mountains out of molehills (actually I kind of am), but kids do exaggerate.
The claim is basically that people suffer from "electromagnetic hypersensitivity" – a diagnosis that was made up by who knows and is recognized by no real scientific researchers. Basically people only tend to notice symptoms when they're made aware of EM sources (real or fake) near them.
If we want to look at it from a physics standpoint, at any point in the day you are subject to near infinite numbers of electromagnetic sources. The sun emits broadband radiation in this famous curve: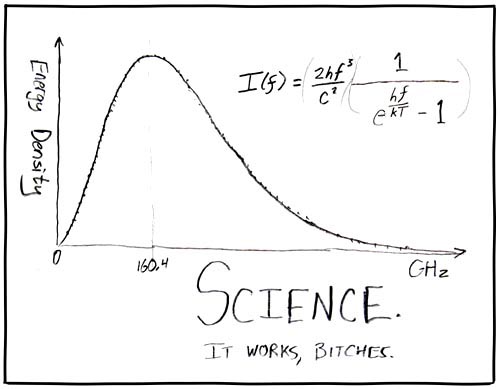 of which parts are absorbed by our atmosphere. There are also countless radio antenna, cell phone towers, and even power lines emit at a constant 60 cycles per second.
Some high frequency radiation can be very damaging and causes DNA to mutate, and very focussed (as in hundreds of Watts not hundredths (1/100) of Watts that WiFi uses) can heat water (how your microwave oven works), but most is harmless and either passes through you or is absorbed causing no noticeable effect (like a little rain on your car won't slow you down on the highway).
The last thing that these children need is to be taught from home by Luddite parents to fear the world around them.
Of course these may be the same people who think that windmills are bad because of the similarly made-up Wind Turbine Syndrome.
Also read the Globe and Mail's article which sums up the supposed controversy and a bit of the evidence.